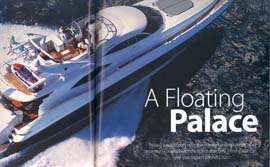 Exerpt from 'A Floating Palace'
Today's luxury boats offer the comfort and opulence of a mansion, coupled with the status that only a fine yacht can give you.
Just as a beautiful woman can launch a thousand ships, so the sight of a sleek and decadent yacht will catch the attention of even the most beautiful woman. Somewhere in the middle of this equation are men, or boys really, for when men set eyes on either they turn into grinning schoolboys. But boats are not like fast cars and motorbikes, not as much the domain of male fascination. No, the idea of owning a luxury yacht is inextricably tied to visions of wealth, power and success-the kind of glamour and fast living that we all dream of from time to time, regardless of gender, age or whether we have ever set foot on a boat before. The dream of owning such a finely crafted vessel is usually born on land; it is only once one has had the chance to experience sailing that it can become a passion in its own right; but once it does, it is the beginning of a lifelong love affair that becomes a way of live.
Walking along the marinas of the Costa del Sol, and that of Puerto Banús in particular, one is confronted with a display of nautical beauty that is enough to make your eyes water. If you succeed in putting envy to the side for a moment, however, and just concentrate on the beautiful design and craftsmanship of the majestic yachts and sailing boats moored there, it is actually a unique experience. Slender lines that curve aerodynamically give the modern yacht an aspect that is simultaneously elegant and powerful, while you just know that the interiors are crammed full of technological gadgetry and high performance engines, not to mention sumptuously decorated cabins. By now your envy has turned to sheer admiration for something so beautiful-until you spot the jet skis, the speedboat or the mini helicopter parked aft.
© Michel Cruz