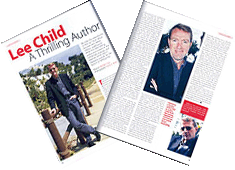 Lee Child
A Thrilling Author
When this best-selling author and creator of the immensely popular Jack Reacher books was in Marbella recently for the launch of 'Without Fail', the sixth volume in the series, we took the opportunity to find out more about the man who keeps millions spellbound.
Those of you who are familiar with Lee Child's work may be surprised to find out that he is one of Britain's top writers today. The surprising part here is not his elevated status among writers of thrillers but the fact that he is English, for Jack Reacher, the character who has catapulted Child to fame and fortune, is unmistakably American. Why then should a British author be writing American thrillers? "Because it gives you so much to work with," smiles Child, "America is so big and so are its heroes." And indeed, Jack Reacher certainly fits into the mould of larger-than-life American heroes, a clear departure from the recent tendency to create snivelling, self-pitying characters whose baggage-laden introspection and soul-searching can be depressing or even downright annoying at times. "With Jack Reacher I consciously stepped away from that and created what is probably a more classic hero, but one who in my view is more positive as well. Reacher isn't perfect, but he doesn't stop to analyse every mistake he makes. He merely tries his best again next time, and maybe that is what we should all do."
In following his own preferences this way, Lee Child has hit a nerve with a vast audience, who have taken the fallible, yet charismatic character to their hearts. What helps is the fact that Jack Reacher is a credible, even unwilling hero, who like the rest of us learns as he goes along, yet is armed with that extra something that makes some people special. When he penned his first book, 'Killing Floor', Child might have been dreaming of bestseller success, but he couldn't have anticipated the response his books have generated around the world. From England to Australia people identify with Reacher and claim him as their own. "There are even fan clubs and websites dedicated to him," laughs Child, who finds his success highly gratifying, yet realises that it is Jack Reacher more than the author himself who is the celebrity. "I like it that way, though. If you think of it this is the best form of celebrity, because although you can walk around the streets unrecognised, your name is known to quite a lot of people."
Essentially an introverted person, he is happy to let his character stand in the spotlight instead. "I think much of the success I have had with my novels is attributable to the strength of the lead character; it is this part of a book that stays with people long after they have forgotten the specifics of the story. A good writer may be able to compensate for an average story just as an excellent plot can compensate for a mediocre writer, but it is the main characters that give a book its flavour." Now a successful and respected author who dedicates himself to writing one good book per year, Lee Child has become a consistent chart-topper in a very short time. The almost instant success he achieved with his first book, 'Killing Floor', proved that he had, quite by chance, found his true vocation when he turned to writing after having worked in television production for nearly 20 years. "I was actually on holiday in Andalucía when I received the call informing me that my services were no longer required at Granada Television. After so many years in the business it was a devastating blow, but in the end it turned out to be the best thing that ever happened to me."
Child now realises that the decision to write an 'American thriller' was motivated partly by the fact that he was less than thrilled with Britain at the time, but all the same he doesn't regret the years he spent working in television. "I firmly believe that, to make a living as a writer, it is vital to have worked in some other field before and I myself couldn't have asked for a better preparation. Besides the copywriting and script writing that I was exposed to, television production taught me to blend quality, art and commerce in a way that is not at all dissimilar to the manner in which these interests are balanced in the publishing industry." Trained as a lawyer, rather than an artist, Child finds the coming together of commercial and artistic forces fascinating. For him writing is not art for the sake of art, but a job that he greatly enjoys and which enables him to express the impressions that build up within him. "Like most writers I spend a lot of time with my own thoughts. Some call it 'living in your own head' or being a 'thinker', but it basically means that you store and process impressions that you collect as you travel, read, feel, interact with people or even listen to music. Writing, then, is a great way of expressing yourself."
Not one to take notes or subject himself to excessive research, Lee Child allows the words to flow and the story to develop organically. "When I read, I love to discover something new, something I didn't know before, so I always try to inform my readers while entertaining them as well." One thing he does refrain from is overly detailed and long-winded descriptions, be they of landscapes, situations or even moods. "I think it takes a lot more skill to convey these things and create an atmosphere without the use of too many words." Excessive use of violence, gore and sex is shunned for much the same reason. "Less is more; more sexy, more frightening, more thrilling. Never underestimate the power of the reader to create the image once you have provided the outline." Knowing instinctively what it takes normally takes years to learn, Lee Child proves himself to be a naturally gifted writer, but his varied background has given him the discipline to make the most of his talent and appreciate the special gift he has to thrill millions of readers the world over.
'Without Fail' and the other novels in the Jack Reacher series are available at Bookworld España outlets in San Pedro and Fuengirola.
© Michel Cruz