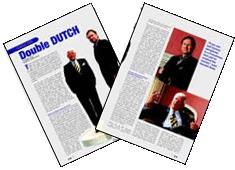 Double-Dutch
The term 'Double Dutch' derives from the time of the Anglo-Dutch Wars, when the English and Dutch navies were locked in a battle for supremacy over the seas, and English sailors were dumbfounded by the difficult sounds of the Dutch language. Ever since, it has become the witty description for something that is unintelligible or hard to understand. You'll grant, it's a catchy title that's hard to resist but it doesn't really apply to these two gentlemen, who-in the finest of Dutch tradition-have earned their stripes in international business.
Had the Dutch not been such confoundedly good merchants and businessmen, they would not have come into conflict with the English, themselves not too shoddy at trade, and the wars and therefore the term 'Double-Dutch' would never have been. But they were and are good at business, endowed with a gift for languages, a flexible outlook and a world vision that stems from centuries as a major seafaring and trading nation. Today, people such as Hendrik Baaij and Leon Schouten continue this tradition in fields such as international commerce, finance and entertainment. A newer development is that more and more skilled professionals like themselves are moving to Spain and enriching the local business community with their invaluable international experience.
Selling aeroplanes around the world
"If you can sell German aeroplanes to a Frenchman, then you've cracked the market," says Hendrik Baaij of a short spell during which he attracted much-needed orders for the Fokker-VFW 614, a small jet airliner that was the product of an uneasy alliance between the famous Dutch aircraft manufacturer and its lesser German partner. As Vice President of International Sales for Fokker Aeroplanes, Henk spent many a year criss-crossing the world in pursuit of lucrative orders for Fokker's fleet of jet and propeller passenger planes. "I'd worked my way up the company, and I believe picked out at a relatively early stage because of my communicative skills. Naturally, you need to know the business, but if technical and financial data was all that was required to sell batches of machines worth many millions each, you could send out engineers and accountants to do the job." He says it with all due respect and a twinkle in his eye, but the point is not lost on me. In a highly competitive field, where thousands of jobs depend on large orders made by a small number of leading and growing airlines, the pressure to succeed must have been intense.
You get the impression, however, that Henk took it in his stride, winning over clients with his affable personality as much as with the facts and figures. His career would later take him through a joint venture producing an internationally successful business television programme that was eventually taken over by the Financial Times, to posts with the Financial Times, Philips and Warner's joint World Vision inflight entertainment systems and US firm B/E Aerospace, but his philosophy remained the same. "Ultimately, it all comes down to whether you click with people, no matter whether you're selling real estate, ladies underwear or jet airliners. Most products are very close in quality and price, so as long as people sell to people, it will always be the personal contact that makes the difference." "And don't forget that personal contact equates to good service and reliability as well," adds Leon Schouten, another seasoned businessman who left Holland at the height of his career and settled down in Marbella.
Commercialising international television programmes
Leon Schouten was part of the Endemol revolution that was not only to transform television in the Netherlands but would have a powerful influence far beyond it, in markets as diverse as Germany, Spain, the UK and the US. Originally approached by television producer René Stokvis to commercialise his productions on a national level, Leon soon built up a commercial department that was finding sponsoring in the commercial and public sectors, both in Holland and beyond. "Of course, it's much easier when you're selling a good, up-and-coming product," says Leon, "and with the company producing quality programmes according to a clever and highly cost-effective formula, it became a very salable commodity." Later fusions were to bring Leon within the newly-formed Endemol corporation, in which the skills of people such as René Stokvis were gathered under the control of John de Mol and Joop van den Ende, two of the biggest names in Dutch television.
"Before long, we were producing a huge number of successful programmes for TV stations across Europe, but especially in Holland and Germany. The organisation grew rapidly in a short time, and with hits like Big Brother and our many shows and talent competitions it became a modern icon of Dutch business, joining the likes of Philips, Shell, Fokker, DAF and Unilever." By the time Telefónica bought the giant Endemol International entertainment corporation, however, Leon had started to think about making a radical change. "My wife and I had often talked about living abroad and exposing our children to an international environment," recalls Leon, "but it was when I was at the top of my career that the feeling became strongest. Our daughters were six and eight, and we thought it was the right time to make the move. Originally, we'd thought of France, but looking into it more carefully we realised it would be hard to settle and establish a new career there, so we decided on Marbella, with its more international focus."
Leaving it all behind
Some might wonder how you can leave all that success and financial remuneration behind, but for Henk and Leon, and their respective families, moving here was a new challenge they had been looking forward to. "I came primarily to retire, says Henk," who keeps himself very busy socially, "but I must admit that my wife misses her career as a leading lawyer in Holland. She's even considered commuting, and while I can't say I'm crazy about the idea, it just goes to show how close Europe has become. In the US, of course, commuting between New York and Washington is nothing out of the ordinary, and pretty soon commuting between London and Marbella or Rotterdam and Faro won't be either."
"Leon became a partner in Worldwide Properties, and enjoys working with clients. "Ours is a very personal and client-based company, so there is the time to get to know clients, take them round and find the right house for them. I think it's an approach that accounts for our success in what they call difficult times, but then again, there will always be demand for quality-quality in product and quality in service. A buyer's market, such as we're experiencing now, brings that to the fore even more, and I think it's a good thing." Leon is one of the many people I've spoken recently who makes the distinction between a professional estate agency and a sales operation, and who expresses both optimism and concern about the Costa del Sol. "I'm optimistic about the future of this region, which Henk rightly calls the 'first European city', but we do share a certain degree of apprehension about how development is directed here. We hope that the authorities will realise that it's their task to protect and manage this area, not just as a product and a sustainable economic entity, but also to ensure quality of life for those who live here."
Marbella Dutch Business Club
"This is an increasingly international area in which the contribution of the foreign community is increasing. We are no longer simply tourists or retirees but now also full-time residents who work here, pay rates and are bringing up what is likely to be the first generation of true pan-Europeans, so although we have to respect that this is Spain and we are foreign residents here, there is most definitely a contribution that can and should be made."
© Michel Cruz